Electronic Message Centers
How many potential customers are passing by your storefront each day? Would you like to reach them using the most cost effective advertising medium? According to studies by the SBA, businesses that installed an Electronic Message Center experienced revenue increases exceeding 75%! Click here to read more about what the SBA has determined about the effectiveness of EMCs.

For a mid-size metro area like Boise, consider the following:



The traffic count illustrated above is easily achievable on any major street. Give your sign new life as a 24/7 marketing agent, and contact the experts at Aim Sign for a free consultation to determine traffic counts, city allowances, and proper sizing.

All of this plus a Five-Year Parts and Labor Warranty! How many electronic items can top that?

EMC Basics
Energy-efficient LED's are clustered into pixels, and the distance between the pixels is referred to as the "pitch". Usually measured in millimeters, the pixel pitch is an important consideration that will impact the visibility of your EMC. Pitch will generally range from 6mm (for high resolution video at close viewing), up to 35mm (for lower resolution monochrome displays).


The number of pixels across the width and height of the display is called the Matrix. An EMC with a 24x112 matrix has 24 pixels vertical, and 112 pixels horizontal. Thus, by lowering the display's pitch, the matrix increases and the image quality is improved.
Another important factor in selecting an EMC is the viewing angle. When the angle is too narrow, the image becomes weaker as traffic rolls past. Aim Sign provides EMC's that have a full 140 degree viewing angle.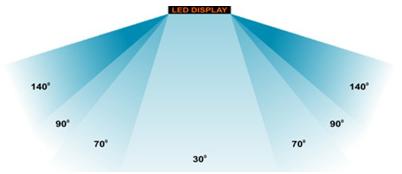 Message Centers in action:
Monochrome message centers are capable of displaying 16, 256, or 4096 shades of Red or Amber. These are an excellent choice for businesses that are looking to replace a manual readerboard.


Full Color message centers can display up to 4.7 trillion colors using Red, Green, and Blue pixels. Perfect for displaying photos of products, these EMC's provide maximum impact for passing motorists.

Request a Quote